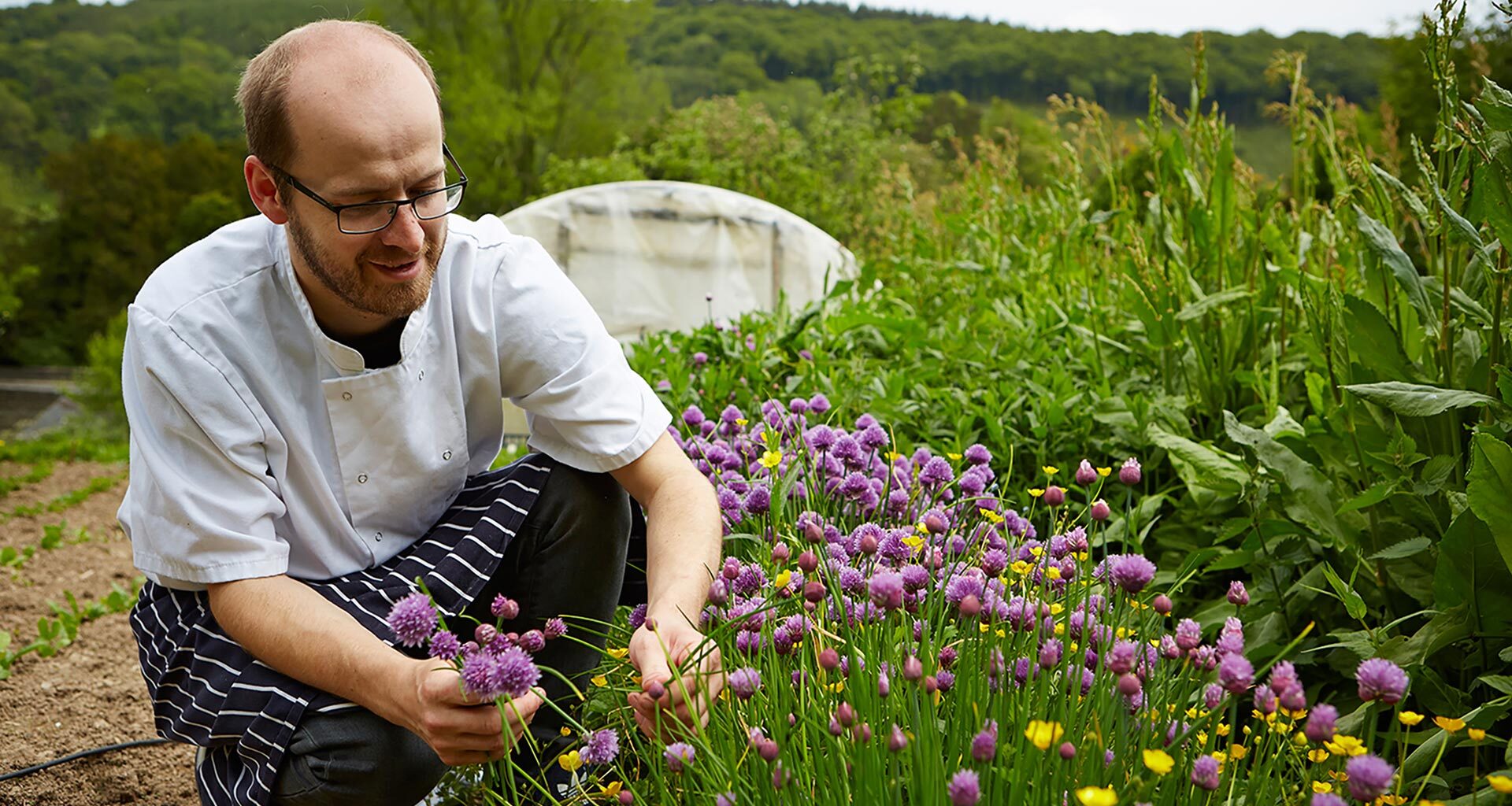 Our Ethos

At The Riverside

Over the last few years our aim has been to create a destination in Herefordshire, that showcases what we love about our unspoilt and historic part of Britain.

Our sense of food, drink and place has been developed to represent the regions terroir, whilst trying to remain one of the leading examples of how to achieve this in a sustainable and environmentally conscious way.

Despite the challenges of recent years, we have tried to create something positive with our time, developing our sustainably approach and ethos throughout the business. As well as reducing our environmental impact and supporting local communities, we have been working with nature, creating a diverse area for wildlife along our riverbank and throughout our kitchen garden and small holding grounds. We have created a new nature walk with views over the Lugg Valley for the enjoyment of our guests in a patch of land that has disused and forgotten for many years. Our heritage orchard continues to grow too with the planting of over 40 trees and hedging plants and we've began tackling our food waste through additional composting.

Our sustainability approach has focused on these key areas,

1. Farm to Plate Food & Drink & Everything Else: We continue to produce as much of our food as possible through our kitchen garden, orchard and small holding. As well as tasting better, this significantly reduces our food miles and for the goods that we do buy in, we focus on supporting as many local, small scale and artisan producers as possible. We're proud to support local and credit those produces and even individual farms who supply us with some of the regions best goods.

Many of our dishes now use Slow Food Ark of Taste ingredients which are designed to preserve at-risk foods. We have also developed our wine list with a stronger emphasis on smaller-scale production from ethical and organic wines producers. Keep an eye out for the lower food-mile English wines that are also making an appearance. Many of our spirits are produced in Herefordshire and we love to serve two refreshing ciders made from apples grown in the region and two ales and even a larger produced only a short drive away.

We source only MSC certified and sustainably sourced fish and serve organic meats wherever possible from farmers who love what they do as much as we do. We appreciate the move towards more plant based diets and enjoy developing interesting dishes that reflect this, combining a variety of flavours and using many foraged herbs from the Lugg Valley itself.

2. Wastage – Reuse, Reduce and Recycle: We appreciate that waste is a big problem and make every effort to do our bit in reducing our impact. By using local suppliers, we often re-use crates for transport rather than single use bags and boxes. Through composting, we are able to significantly reduce kitchen wase for wet and dry fertiliser. We continue to reduce and ban single use plastics and choose suppliers who mirror our attitudes to waste and becoming more sustainable in their practices. Hundred House Coffee source ethically soured coffee, are carbon-neutral in their practices and provide packaging-free coffee, Nobel Isle supply us with cruelty-free vegan, 100% recyclable and British face and skin care products Birchall Tea became the first carbon-neutral tea company in the world. Many of our materials are made from recycled and sustainable materials including wool carpets, staff aprons from recycled plastic bottles and upcycled old apple crates for storage.

3. Energy & Carbon Footprint: By the end of 2022 we're hoping to become a carbon-zero business through tree and hedge planting both on site and within our local communities. This not only reduces our footprint but will create more green spaces for those living and working within the area. We encourage staff car sharing wherever possible and have recently installed bicycle racks to encourage greener social activities for our guests. We offer free Electric Vehicle Charging Stations for guests and use environmentally friendly chemicals, increase use of waterless and water saving technology. We're always moving towards low energy technology and have improved insulation throughout the property.

4. Wildlife and Ecology Preservation: During the last lockdown we planted a range of native wild flowers and heritage fruit trees to create greener spaces that favour bee, butterfly and other wildlife. Our garden and green spaces are managed by hand using an organic land management approach. Keep an eye out for our homemade bird boxes using waste materials. Many of the dead branches, wood piles and bracken were used to create natural cover and homes for small mammals including hedgehogs. We've created a natural nature walk around this space with benches for guests to relax in the natural surrounding whilst appreciating the views over the River Lugg basin and Aymestrey Parish.

Following the great feedback received about our approach and our desire to become a carbon neutral business in 2022 we have decided to go beyond the borders of the Riverside and are introducing a voluntary carbon neutral donation to all of our guests. Put simply this gives our diners the opportunity to add a £1.50 donation to offset their carbon footprint for their meal. These donations will then be used to support a variety of green projects throughout Herefordshire in local schools and village communities. We encourage any such community to get in touch if they would like our support.